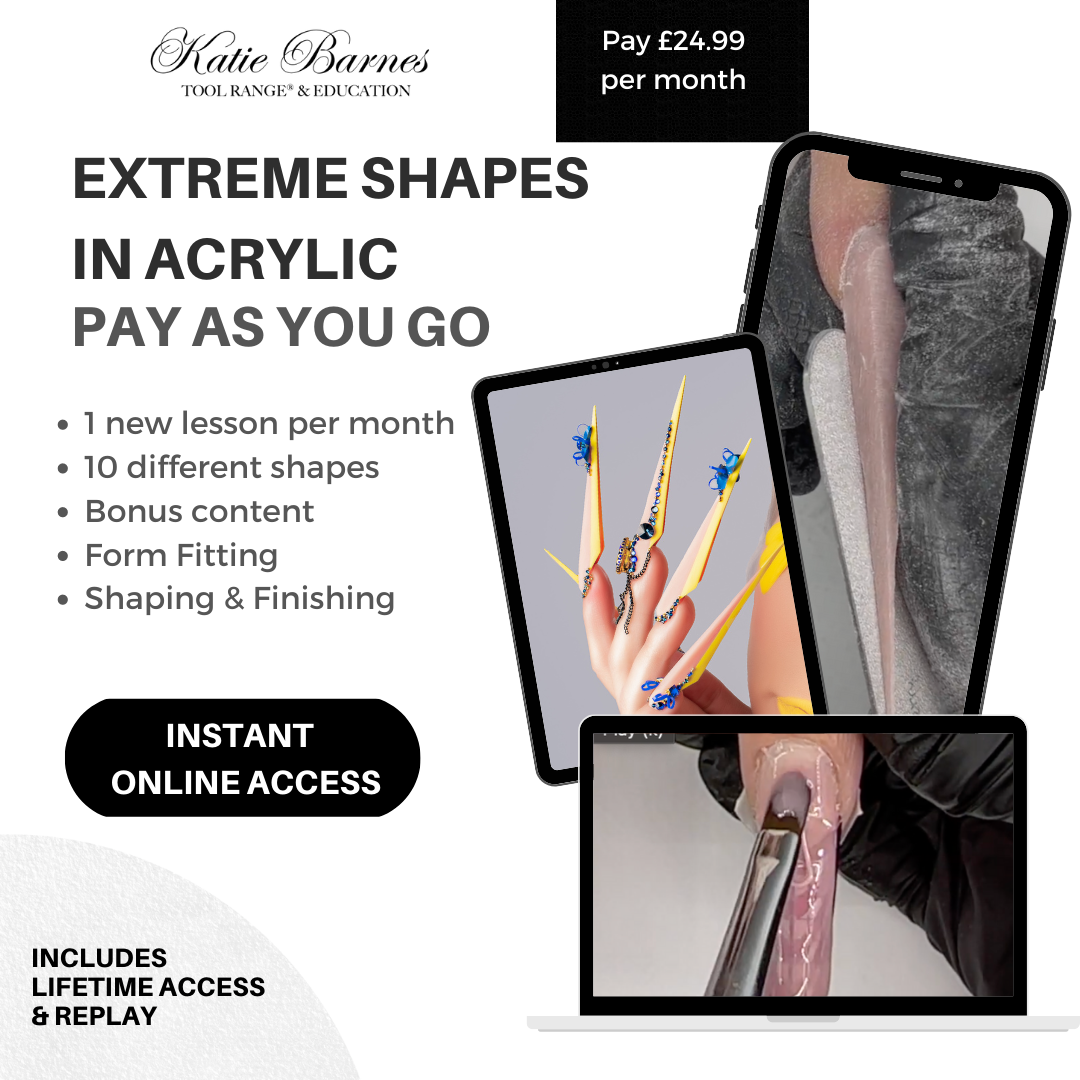 Extreme Nail Shapes in Acrylic Masterclass Pay As You Go Monthly Subscription
Regular price
$31.99
/
Tax included.
Shipping
calculated at checkout.
---
In stock, ready to ship

Inventory on the way
Do you want to learn how to create extreme nail shapes, like a butterfly, dragon or razor? 
Do you want to be able to invent your own nail shape?
Have you ever looked at some of these extreme nail shapes by top nail artists and thought they are so creative and so unique and have always wondered how they created them?
Where do you start? 
We've got you covered!

In this KB Extreme Shape Nail Masterclass, we will lead you step by step in how to create some of the most popular extreme nail shapes, even if you haven't created extreme shapes before. You will learn all of the techniques and skills needed to master these advanced sculpting and shape techniques using acrylic L&P. 

In this comprehensive online course, you'll also learn advanced form tailoring techniques, mastering consistency and the perfect structure, perfecting product control and skills, decoration techniques — and more!
KB Extreme Shape Masterclass is tailored for you – meaning that you can learn at your own pace, with one new lesson paid for and released per month. 
Our masterclass comes with lifetime access so that you can learn at your own pace and have our support whenever you need it.
The best part of this course is that it is delivered online, so no matter where in the world you might be, we will deliver it straight to your computer, in high definition video format so that learning is easy and convenient for you. You will receive a brand new lesson every month into your course portal.
You will learn: Russian Almond; Pipe; Edge; Stiletto; Butterfly; Dragon; Razor; Dagger; Lipstick; Corkscrew; Triangle and how to Create your own nail shape.
If you are ready to take your nail skills to the next level and learn how to sculpt your nails into any shape imaginable whilst you pay and go, then this online masterclass is for you.
HOW DO I ENROL?
Sign up to your chosen course on this page at any time. Upon purchase you will have instant access to your course. You will be able to access these via MY COURSES on your account.
The pay and go option is suitable for those that want to learn one new lesson per month and pay for these monthly rather than in advance.
HOW DOES PAY AS I GO WORK?
When you sign up to pay and go, you will be signing up a monthly subscription where you will pay and receive 1 lesson per month. There are 12 lessons, so this subscription will last for 12 months and automatically end once all your courses have been paid. This will be taken automatically via your chosen payment provider and you will receive a new course in your course portal every month from the date of first purchase. You will still have lifetime access once you have paid for each course. You can cancel this at any time and will keep the lessons you have paid for but will not receive further lessons. 
WHEN WILL I RECEIVE EACH NEW COURSE?
Your new course will be automatically added to your MY COURSES portal each month. The date of this will be 1 month from the date of your original payment.
HOW MANY LESSONS ARE THERE?
There are 12 individual lessons in the Complete KB Masterclass, some with several videos and guides.  There are also bonus videos and guides. There is typically 1 individual lesson and accompanying guides to the individual lessons. You will receive 1 course per month in your course portal. The previous ones will remain.
HOW LONG ARE THE LESSONS?
Depending on the lesson, they range from 20 minutes to 3 hours per lesson. Most are on average 40 mins - 1 hour.
WILL I RECEIVE PERSONAL COACHING FROM KATIE?
No. This is a self-guided course to carry out in your own time. You will have access to a feedback and support group throughout.
WHAT'S THE SCHEDULE? CAN I TAKE IT AT MY OWN PACE? HOW LONG DO I GET ACCESS TO THE MATERIALS?
Yes, you can take it at your own pace. As soon as you join, you'll get instant access to the first course. A new course will be added to your account every month on your renewal date. It's entirely self-paced and the content is online 24/7, so you can take it whenever and wherever you want. You will have lifetime access so you can return to the content again and again.
WILL I GET SUPPORT AND FEEDBACK?
You will get access to a private group which means you are never alone! I will be there, answering questions and offering feedback. Plus, you have many other students who are in the same place ready to encourage you and answer your questions too!
WILL I GET A CERTIFICATE?
You will get a certificate upon successful completion of all the lessons.
IS THE MASTERCLASS ACCREDITED?
As this is an advanced and refresher techniques masterclass in subjects which you are already qualified, this is not an accredited course. However, it will be certified upon successful completion.
Free UK shipping upgradable to next day at checkout.
All international orders shipped via courier.