What are the best hand poses for nail photos?
Taking good quality photographs of your nail work is great for your advertising and marketing materials as it shows off your skills. Regularly photographing your work will also allow you to see room for improvement and highlight areas of concern that may not be obvious when in front of you. These photos you produce can help build your portfolio which is ideal for attracting new clients and career opportunities and brightening up your website, social media or salon space.
One of the most important elements to consider when taking nail photos, whether in salon or for a competition is the hand positioning.
There are so many images that can be ruined by the position of the hands, so to make the most of your images, the pose needs to be flattering. The aim is to create the illusion of length and slender hands. Now, we know that clients don't always have model hands and this is why choosing a complementary pose is even more significant.

Cropping your images so the nails not the hands are the focus; tucking thumbs in and the angle which you position your camera can all contribute to a good shot.
It is often more beneficial and provides better results when photographing just one hand. You will get a better focus on the nails in shot and will be able to showcase the quality of the work.
If you want to capture two hands, then use a softer pose. Use this guide for hand poses and how to turn the most popular hand poses for nail images into the most flattering versions.

Something that I was taught by a professional photographer was 'if it bends, bend it'. For example, make sure the customer does not hold the hand straight and stiff, with the intention of 'helping'. It is important that they relax it (remember, we are forever telling our clients this when working!).
A natural bend in the hand or fingers will give a much softer and more flattering look.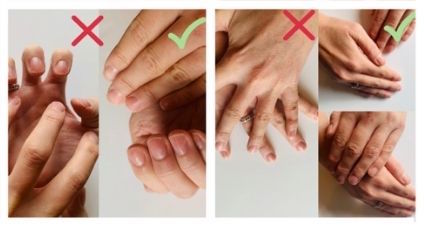 Holding your hand stiff and flat in-front on your face will look wide and unflattering and will overshadow the rest of the image. Softly bend the fingers and this will give a much better image. Look at professional nail images; the hands and fingers all have a soft bend to them.
A lot of this will rely on your client's ability to put their hand in the positions you require so is an important element to consider when choosing hand poses. You also need to take into consideration the length and shape of the nails. The longer the nails, the harder the pose. Keep the pose simple and avoid poses where the hand is closed.
You want to envisage which pose will best showcase the shape and design you have created.
For example, if you have created a Russian almond shape enhancement or nail art on the side the nails, then capturing a side view is a must. If your art is central, then a front view is better.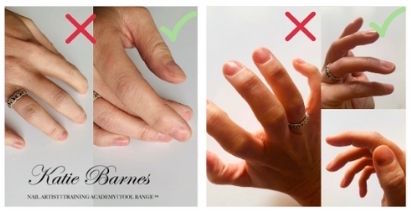 Bad hand poses can ruin even the best of nail designs. Showcase your work at its finest by choosing the most flattering hand poses.
Learn my top tips for improving your nail photos here.
---