How to know which gloves to choose
How to know which gloves to choose?
Lack of nitrile glove use or using the wrong nitrile gloves can cause issues that our industry is far too aware of due to allergies. The Covid-19 pandemic has highlighted the necessity of proper PPE even further. For our industry, we have always required PPE especially for chemical protection. It is important to select a glove with the appropriate level of CE and EU Chemical Resistance specification and certification, while determining the chemical protection required for the job at hand.
Thickness
Glove thickness is usually given in the unit mils, which is equal to one one-thousandth of an inch; therefore, a glove that is 10 mil, is 0.010 inches thick.
In the nail industry, we come into contact with chemicals regularly. A thickness of 6-8 mil is suitable for our trade. A thickness of 7.5 mil (thousandths of an inch) = 0.19mm will offer 60 mins usage and chemical resistance.
It is critical that gloves are changed at or before the chemical resistance time expires, otherwise the protection will become redundant.
When you seek gloves with a thickness greater than 8 mil, dexterity and comfort become affected, making it more difficult to perform particular tasks.
This doesn't mean that a thickness of 7.5 mil is essential, but if a lesser thickness is used then you should double up gloves or replace sooner than every 60 mins.
Here is how to calculate how often your gloves should be changed in relation to the thickness purchased:
60 mins / 7.5 mil = 8 mins per mil 
Multiply this by thickness of your gloves. 
For example:
7 mil thickness (0.15mm) = 56 mins chemical resistance
5 mil thickness (0.1mm) = 35 mins chemical resistance 
Calculate how many gloves you need with the calculator below:
Calculator placeholder
EU Chemical Resistance specification
The other element which we need to look for when purchasing nitrile gloves is the EU Chemical Resistance specification. These should conform to the EU Chemical Resistance specification EN 374-3 or higher, but what do these numbers mean? Is EN 374-1 enough for a nail tech?

To make this even more confusing, since 2017 these specifications have been renamed, however many companies and certifications still refer to the previous names. Either of these may be present. The new names are listed in brackets in the below chart.
The EN specification is awarded on testing how a glove performs to a wide range of chemicals while taking into account permeability, penetration time, shrinkage and more. The standard specifications for chemical-resistant glove can be awarded from EN 374 1 – 5.
EN 374 – 1 (BS EN ISO 374-1): Protective Gloves Against Chemicals and Micro-Organisms
Offers low chemical protection (chemical splash protection only).
These must be changed immediately upon splash contact to prevent penetration as this specification does not protect against penetration.
If in prolonged contact with a chemical, such as nail technicians, EN374-3 is recommended.
Most chemical resistant gloves will be tested to EN 374 – 1. EN 374 – 1 will test gloves to a total of 18 different chemicals including acetone and Ethyl Acetate.
EN 374 – 2 (BS EN 374-2): Determination to Resistance to Penetration
Offers Micro-organism protection.
Determines a gloves resistance to penetration by chemicals, something that is identified by testing the gloves to leakage when air and water is pressed through the gloves.
These offer slightly more resistance than EN 374 – 1 from chemical splashes, but will not offer guaranteed protection against penetration.
EN 374 – 3 (BS EN 16523-1): Determination of Resistance to Permeation by Chemicals

Offers protection from sustained contact with chemicals, including immersion protection.
Determines the level of chemical resistance through penetration. Sometimes, penetration of chemicals occur without any physical changes or damage to the gloves, such as swelling, cracking or a reduction in elasticity, so whilst the material can seem unaffected, it does not offer protection. This is why it is important to change your gloves regularly at the calculated time to offer chemical protection.
EN 374 – 4 (BS EN 374-4): Determination of Resistance to Degradation by Chemicals
EN 374 – 4 is designed to take into account how long it will take for a glove to become damaged and lose strength and/or protection.
A change in a glove material.
It can cause damage breakage, swelling or shrinkage.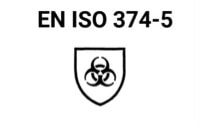 EN 374 – 5 (BS EN 374-5): Protective Gloves Against Chemicals and Micro-Organisms 
This standard confirms if a glove is suitable for use with biological agents. The two parts of the standard are represented by two symbols below. The criteria to meet these standards is high
It's important to take your time and do your research on the most suitable glove for your requirements, as a mistake in purchase can result in you ending up with gloves that are resistant to an irrelevant chemical or not resistant at all.
We have spent a considerable time researching glove certification and are resellers of professional nitrile gloves which are up to the specifications required by Nail Techs. You can check them out here.
Let me know if you found this blog helpful in the comments.
---
3 comments
---
---