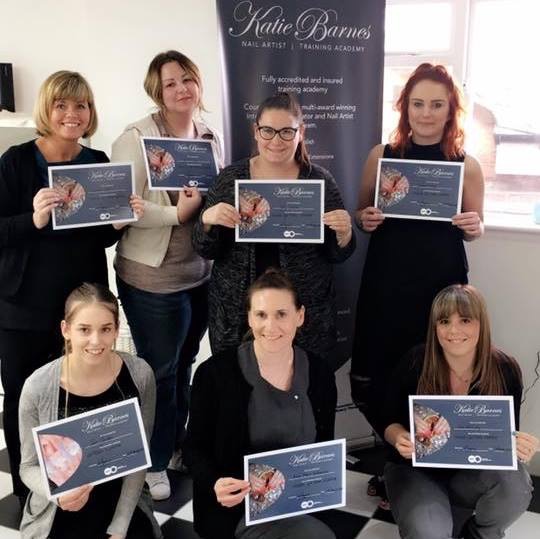 Course Dates
For the latest dates please contact us. To view our latest timetable, visit:www.facebook.com/pg/KatieBarnesAcademy/events/?ref=page_internal
Booking fees and Payment
A non refundable 50% booking fee is required for each training course; the amounts are detailed with each course. All courses are subject to price increases, please check prior to booking. This booking fee secures your place and booking, your booking will not be taken or confirmed without a booking fee. The booking fee and remaining payment can be made by prior bank transfer, cash or card payment. This booking fee is non-refundable but can be transferred with notice to the same course only from an event held in Warwick. You can default on this three times before the booking fee is lost and you will be required to pay the full training cost. This transfer must be booked within 6 months of the original date and will not be redeemable after this period. This payment will also be subject to any price increases in this time and the additional amount will be payable. If you have paid for your course in full in advance, this is also non refundable and should you decide not to continue with your course at any date a refund will not be granted. The remaining balance will be due two weeks prior to commencement of the course and four weeks prior to commencement for courses hosted at other venues. If you book your place after this time frame, full payment will be due at the time of booking, which will be non refundable but as above, is transferrable with a minimum of 72 hours notice in Warwick only.
Please ensure prompt payment of the remaining balance to avoid late payment fees being charged. If cancellation is made, we reserve the right to charge the course booking fee in full. In the event of a cancellation of the course by the academy due to unforeseen emergency circumstances, your place will be automatically transferred to the next available or suitable date for yourself. Please note, all courses will run regardless of the amount of students booked and will not be cancelled if the class hasn't a minimum amount of students booked. All course pricing is subject to change, please check prior to booking.
Gift Vouchers
Gift Vouchers for Katie Barnes Training Academy are available and start from £10 or can be purchased for specific courses. The amounts are redeemable against another course than booked. Gift vouchers are valid for 6 months after purchase and can only be used on courses at Katie Barnes Training Academy.
Attire
At all courses, students are required to wear full salon uniform, have jewellery removed and hair tied back. If you do not own a salon uniform, please wear clean, comfortable black clothing.
Funding
If you require funding, please contact your local job centre or The Prince's Trust.
Mobile Phones
Mobile phones should be kept on silent or off during training.
Photographs
Photographs are permitted and can be used for advertising and learning purposes, however we cannot permit the use of video recording. The trainer will also take photographs that will be used for advertising purposes.
Start times
Please arrive at least 15 minutes prior to the course start time for a prompt start. If you are running late, please call the academy on 01926493974.
Models
Majority of courses do not require models as students will work on themselves. These will be detailed with each course. If you cannot find a model or there is a valid reason for not being able to have the treatment, please let us know in advance. Students must be willing to undertake treatments on each other and come prepared as necessary (nails removed, no eye make up etc).
VAT
20% VAT is added onto all courses and products purchased from the academy. Our VAT registration number is: 232761714.
Location and Parking
Katie Barnes Training Academy is located in the heart of Warwick, near the local railway station, Warwick. It is approximately 2 miles from Leamington Spa, 5 miles from Kenilworth, 9 miles from Stratford, 10 miles from Coventry and 20 miles from Solihull.
36 Smith Street, Warwick. CV34 4HS
There are two pay and display car parks 'Priory Road' and St Nicholas Park located nearby-
https://www.warwickdc.gov.uk/info/20547/warwick_car_parks/629/priory_road_car_park_map
https://www.warwickdc.gov.uk/info/20547/warwick_car_parks/633/st_nicholas_park_car_park_map
Warwick train station is a 5 minute walk and Warwick Parkway a 15 minute drive.

For local hotels, we recommend:

Castle Limes - 5 minute walk (quote Corporate for £75 single occupancy rate)
Warwick Arms - 7 minute walk
Rose and Crown, The Globe, The Tilted Wig Pubs - 10 minute walk
Hilton / Premier Inn / Holiday Inn - 5 - 15 minute drive (traffic dependant)
If you are training on a Sunday there is on street parking outside the academy available all day free of charge, however please note that Monday – Saturday there is a chargeable 1 hour limit to parking.
For a full list of Training Courses, then use the drop down menu above.