6 Ways Entering Competitions Improves Salon Work
Posted on
Thanks to my work as a judge and the many years I've spent as a competitor I know a lot of nail technicians who love the competition circuit. But from my classes, boot camps, and meetings with other techs I know that there are a lot who never think about competing.
Whether it is a lack of confidence in their skills or that they simply don't see the need for winning awards because they have enough clients and are successful, there are lots of nail technicians out there that don't compete.
Before I entered my first competition I was so scared, I wasn't sure if I was 'up to the standard' of the other nail techs or if the competitive atmosphere would mean no one was talking to each other. But I found the opposite and made loads of new friends who put me at ease as well as learned a lot about myself and how I could improve.
So from my experience, competing has had SO MANY benefits, here are what I think are the 6 most important ones for helping your salon work.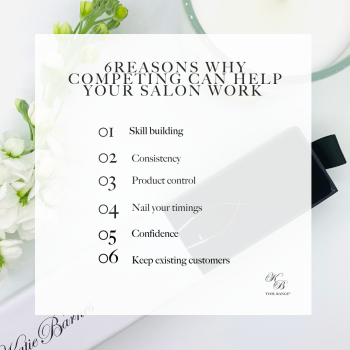 1. Skill Building
By forcing you to compare yourself to others and your everyday self, entering competitions can help you identify areas you need to develop, eliminate bad habits and make improvements that may be necessary.
2. Consistency
Creating consistency in your sets, will in turn improve timings and a more refined result, providing a happier client.
3. Product Control
When you learn how to master your product control, this allows only the need to refine the application with a lower grit nail file, leading to money-saving techniques such as the use of less product and reduction in timings, and less chance of service breakdown.
4. Improve Your Timings
When working on clients, one of the worst habits techs have can be time wasting, including excessive product application and filing and stopping the service to chat. You must break down each working stage and stick to your timings to compete. Taking this skill back to the salon speeds up your salon timings, meaning you can avoid running late for clients and earn more income.
5. Confidence
When you regularly compete you will continue to see progress in your work. This gives you confidence that you are growing and continually pushing your abilities as a nail tech.
6. Retain Clients
Customers will be proud that they are clients of an award-winning business.
These are just 6 of the ways competing will help you, if you want more help with competing then check out my new Competition Materclass